FEATURE ARTICLE from Hemmings Classic Car
1961 Ambassador by Rambler
Hemmings Classic Car - JANUARY 1, 2006 - BY MARK J. MCCOURT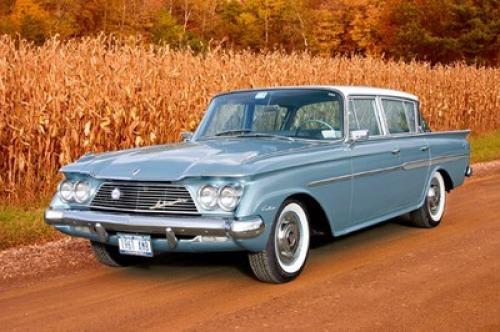 For many enthusiasts, automobiles hold more than passengers and luggage-they also hold memories and experiences. This is the case with the 1961 Ambassador by Rambler for Harold Anthony. Although nearly 40 years separate the Ambassador he purchased new at the dawn of the 1960s and the immaculately restored example he owns now, this unique collectible still stirs fond recollections of Harold's past.

"I bought my first new car, a 1961 Ambassador Custom, in November 1960," said Harold, a resident of Buskirk, New York, a small town northeast of Albany. "I got out of the Air Force that year and went to work in Amarillo, Texas. I didn't need a new car-my parents had given me a new Plymouth when I got married in 1959. I used to walk by Battenfield Motors, the American Motors/Rambler dealership, every day on my way to work. I saw the 1960 Ambassador Custom, and I wanted one. I was impressed by the way they were built; the windows were adjustable in separate aluminum frames, not part of the door as in other cars. The unibody construction intrigued me, with the engine mounted below the springs like the design of a MacPherson strut-equipped car today."

Harold couldn't get the 1960 model he originally desired, so he opted for a 1961 model ordered to his specifications.

"I wanted factory air conditioning and a manual transmission, and they couldn't find one like that. The dealer showed me a photo of the upcoming 1961 model, and it sold me," Harold smiled. "It was an ugly car compared to the 1961 Chevrolet and most Chryslers, but I thought it was unique and beautiful. He special-ordered my car and it took eight or nine weeks to arrive. In two years of owning that car, I put over 60,000 miles on it!" he said.

His love of American Motors products was firmly cemented, and Harold traded that 1961 Ambassador Custom in on a 1963 Ambassador 990, then sold that to buy a 1964 Ambassador 990-H.

"I've driven Volkswagens since 1978, but I've always had a soft spot for American Motors cars. I retired in 1998 and started going to car shows with my 1929 Ford, and I saw very few American Motors cars. I figured that I could find a 1961 Ambassador to enjoy driving and showing. I found this car in Martinsburg, West Virginia, through the November 1999 issue of Hemmings Motor News, and called the owner to tell him not to sell it until I looked at it-if it was all there, I'd pay him what he was asking. I drove down to look, bought it, and it was delivered to me in December 1999."

Harold's second 1961 Ambassador Custom was originally the same single-tone Berkeley Blue as his first, but this car differed by its push-button Flash-O-Matic automatic transmission and lack of air conditioning. It was missing a piece of rear door trim on the passenger's side, the vacuum pull control for the wipers was likewise missing, and the vacuum disconnect for the transmission's neutral start button wasn't working. The car had a faded repaint in a darker shade of blue, the original upholstery was splitting, and rust was attacking the trunk floor and the panel under the rear bumper, as well as the lower A-pillar box supports.

"I had planned to fix the nonexistent brakes and just drive it, but upon further inspection, it needed that rust repaired and new upholstery, so I figured, what the heck-I'll do the whole thing over," he laughed.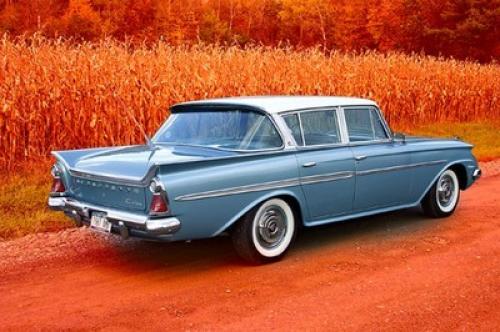 The Ambassador by Rambler, as American Motors' flagship sedan was then known, received a facelift for 1961. The car's center body section, with its distinctive reverse-curve C-pillar, had basically gone unchanged since 1958, but the tall panoramic windshield and thinner C-pillars that the car gained in 1960 offered greater visibility. In addition to revised taillamps, fenders, doors and side trim, the 1961 Ambassador sported a new face; under a lower hood with a recessed center section, quad headlamps sat atop the front bumper and flanked an angled trapezoidal grille. Scalloped front fenders with protruding lower edges were also new.
The 1961 Ambassador was built on a stretched Rambler platform, with its 117-inch wheelbase adding 9 inches ahead of the regular Rambler's firewall. The car was available in Deluxe, Super or upscale Custom trims, and Customs were distinguished by anodized aluminum side trim, hood insulation, Airliner reclining front seats with front and rear Airfoam cushions, full wheel covers, an electric clock and a headliner-mounted Handi-Pak Net Carrier. They were powered by cast-iron 326.7-cu.in. V-8s with overhead valves, a 4.00- by 3.25-inch bore and stroke, and 8.1-compression. With a two-barrel Holley H-2040 carburetor and single exhaust, these V-8s made 250hp at 4,700 rpm and 340-lbs.ft. of torque at 2,600 rpm, although this could be bumped to 270 hp and 360-lbs.ft. with the optional Power-Pak's 4-bbl. Holley carburetor and dual exhausts.
Underpinning the freshened Ambassador were carryover independent, coil-spring front and coil-spring/live closed-axle rear suspensions. Four-wheel drum brakes hauled the cars to a stop. Power-assist for the brakes and steering, reversing lamps and the famous Weather Eye heater were also fitted to Harold's second Ambassador. Other options found on this car were the push-button transistor radio, Flash-O-Matic transmission, Solex glass, windshield washer, Twin-Grip differential axle and factory undercoating.
Harold was pleased with the restoration work that Frank Berard of F&R Body Shop and Service in Johnsonville, New York, had performed on his grandfather's one-owner Model A closed-cab pickup, so he contacted him again regarding the Ambassador.
"Frank is a very meticulous person. His business is a body shop that does normal automotive maintenance along with race car fabrication and custom paint, but when he had a lull, he'd work on my car," he explained.
Frank, along with his son Frank, Jr., took on the Ambassador's restoration after Harold took a shot at unbolting a front fender.
"I worked for about two hours on that fender and had a handful of hardware, and it still wasn't off-that fender is a large panel, and I gave up after a while," Harold laughed.
The crew at F&R began to disassemble the car, beginning with the front end. When it was bare, the engine and transmission were pulled with a portable engine hoist. The rest of the exterior trim was carefully removed, tagged and stored, and the interior was gutted.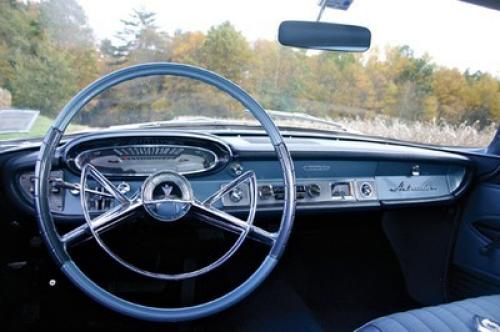 Harold took the dashboard, with its distinctive wraparound padding, to American Classic Restorations in Uxbridge, Massachusetts.
"They said they had never seen one like this before," Harold said. "The padding follows the dash and is made in pieces. It took them about six months to redo it, and it ended up a bit wrong-Frank had to cut and modify the padding to allow the perpendicular chrome pieces under the windshield to fit." The restoration professionals at Classic Restorations rechromed the Ambassador's bumpers and trim and rebuilt the speedometer.
With the front fenders removed, damage to the lower inner fender wells and the structural lower A-pillar and frame could be assessed. Frank cut out the corroded metal with a plasma cutter and cut-off wheel, tack-welding in new 22-gauge sheetmetal before MIG-welding it, and covering the repairs with PPG NCP 270 corrosion-resistant primer. While the passenger floor looked virtually new under the carpeting, the driver's side floor had a thick coat of surface rust that had to be sandblasted. Frank removed all paint from the car by mechanically dry-stripping it to bare metal. It was then that he discovered that the front passenger door had been previously damaged and repaired; it required straightening and a light skim of plastic filler to smooth the surface. Frank and his son propped the Ambassador on blocks outdoors to sandblast the undercarriage, and all suspension and brake components were removed, repaired and sandblasted to bare metal for repaint. New fuel and brake lines were fabricated and installed.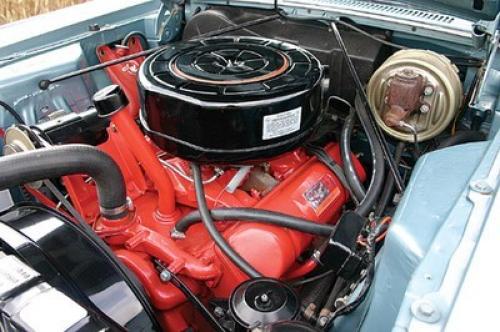 While Frank worked on the Ambassador's body, the 327-cu.in. V-8 was shipped off to B&C Machine of DeFreestville, New York. There the block was decked and line-bored, the cylinder heads were milled and the intake manifold was ported and polished for greater airflow. The short-block was then reassembled with .030-over pistons and fresh bearings. "I tried to find an aftermarket cam for more power," Harold recalled. "But nobody seems to make one for this engine. B&C Machine found someone in Tennessee who reworked the original camshaft-it isn't too radical, but the exhaust and idle are just enough to let you notice the extra power."
Frank then resprayed the engine with single-stage PPG Concept urethane in the original orange-red hue.
Because the one-piece panel normally covered by the rear bumper, along with that inside the trunk, had rotted through, Frank fabricated a new panel with a hammer and dolly from 22-gauge sheetmetal. After he completed the metalwork at the tail of the body, he moved the Ambassador into the paint booth, painting the entire car with six coats of PPG NCP 270 primer, which was block-sanded after every two coats.
Before the body received its color coats, Frank painted the engine bay, using PPG acrylic urethane in the correct Berkeley Blue metallic. Frank Jr. then coated the wheel wells and undercarriage with PPG Concept urethane and rubberized undercoating to match the original texture. The high-gloss black PPG Concept paint was also used on the undercarriage, the suspension and brake components, and radiator support.
Frank sprayed the roof with two coats of solid PPG white and four coats of clear, which were wet-sanded; this paint scheme was not original to the car, but it matched the two-tone treatment of a car frequently seen in American Motors' 1961 advertising. When the roof was dry, he masked it off in preparation of spraying the body. To ensure that every part of the Ambassador's body received paint, Frank sprayed all of the panels off the car with four coats of blue. Everything then received six coats of PPG clear, which was wet-sanded with 1500- and 2000-grade paper. The completed engine and transmission were installed before bolting on the front bodywork in order to lessen the chances of chipping those freshly painted body panels and ensuring he would have the best access to the mechanicals. The doors, fenders, hood and trunklid were attached last.
While Frank and his son were giving the Rambler's body a new lease on life, Harold was busy locating new trim parts to complete the package.
"I had the hardest time locating the chrome trim and Ambassador crest on the leading edge of the hood, but I eventually did," he said. "I got a reputation during the restoration-I could find nearly any part. The part that truly eluded me was the proper headliner material with the cotton Handi-Pak Net. I got SMS Auto Fabrics in Canby, Oregon, to reproduce the door panels, and they also had new-old-stock cloth seat material. I already had two NOS rolls of the proper vinyl material. Other NOS parts I located were the wiper control, the hubcaps, a stock dual-exhaust system and a number of hood, tailfin and door chrome trim parts, and all but one letter of the Ambassador name on the trunk are NOS. Most of these parts came from Steve at Blaser Auto Nash, Rambler, AMC in Moline, Illinois, and Jim at Webb's Classic Auto Parts in Huntington, Indiana."
With the Ambassador resplendent in its new paint, Frank installed the exhaust system and new brakes, along with the repainted Twin-Grip 2.87:1 differential. "I didn't even know the car had the Twin-Grip until they cleaned off the undercoating, and the stickers became visible," Harold laughed.
A set of wide whitewall Coker Classic radials were mounted on the repainted 14-inch steel wheels to get the car rolling, and the refurbished dashboard was reinstalled along with the steering wheel. The original glass was reinstalled along with a new windshield.
The car was then transported down to American Classic Restorations to have the recovered seats, door panels, carpeting and headliner installed. While the car was in Massachusetts, the Borg-Warner transmission's torque converter failed; the entire transmission unit was then successfully rebuilt by the Automagic Transmissions in Sutton. When the car was returned to F&R, Frank reinstalled the rest of the car's trim, including the trunk carpeting ("It wasn't originally carpeted, but I prefer it this way," Harold said), the original trunk lid anti-rattle pad and the body side trim, with its anodized aluminum center.
"That trim was very delicate, and Frank cleaned it to new, as well as somehow getting that anti-rattle pad between the underside of the trunk and the welded bracing," Harold said. "I asked him how he did those things, but he just smiled and said that if he told me, he'd have to kill me."
The restoration of Harold's Ambassador took two years and many thousands of dollars, but in turn, he has one of the most correct and handsome 1961 American Motors cars still on the road.
Keep it on the road he does: Harold puts about 1,000 miles a year on the car, and even drove it to the American Motors Owners Association Nationals in Kenosha in 2002. And owning this car does bring him back to 1961.
"I remember my first Ambassador had an odd problem," he said. "On cold mornings, the horn wouldn't work. I remember watching how the mechanic fixed the copper contact. I had to laugh when it stopped working on this car- I knew exactly how to fix it!"
---
OWNER'S VIEW
"This car is very easy to drive for great distances. I've driven it at 70 to 75 mph for eight to ten hours at a time. It handles well on the radial tires, which I think are important for safety. The stock engine had 270hp, but it now makes more with the modifications we've performed, and has a great sound when moving out quickly.
"If you're not used to driving older cars, you'll have to put up with some quirks; if you've never driven a car with full-time power steering, you'll have to be careful not to over-steer. One can see why shoe brakes are no longer used, as they are harder and take longer to stop. And I try not to drive the Ambassador when it rains, but if I do, the vacuum wipers are very strange-they slow down when I speed the car up, and speed up when I slow down!
"There is a lot of fun in hearing people who see my car ask, 'What kind of car is this?' or 'I was around in 1961, but I do not remember seeing this car.' But my favorite comment of them all to hear is: 'A 327 V-8... it must be a Chevy engine!'"
-Harold Anthony
This article originally appeared in the JANUARY 1, 2006 issue of Hemmings Classic Car.
Order Backissues of Hemmings Classic Car Here.