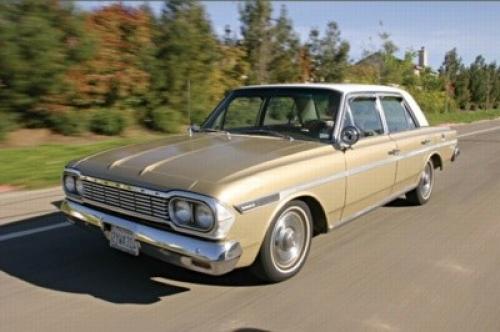 Economy cars are tools. No one loved the workaday straight-six when a sexy V-8 was available; no one went mad for two extra doors between the B-pillars and back wheels when coupes captured the imagination, and the zillions of base-engine models and sedans that were churned out made them so much less special than the premium models. Right?
But there's a hidden upside to economy cars: They lasted. The people who bought them, who spent so little for them in the first place, would take care of them to ensure that their meager initial investment was stretched further still. The lack of abuse on powertrain components meant that little would mechanically go wrong. And in Western states like California which rarely see snow (much less salted roads), painted sheetmetal lasts forever. It's a recipe for longevity, if not eternal life.
Such is the case with Antioch, California, resident Gwen Smith's 1964 Rambler 770 sedan, which has acted as her daily driver and only car for the past dozen years or more; it cost her a whopping $500 at the time.
This Frost White over Emperor Gold beauty was built in Milwaukee in January of 1964, and purchased in August. What tempted the original owner, Clarence Tyson of San Diego, to buy this particular machine? Base models were spartan but not stripped: On top of the contemporary overhead-valve, 195.6-cu.in. straight-six and advanced "Uniside" unibody construction, a cigarette lighter, dome lamp, carpeted floors and trunk, a clock and full wheel covers were all part of the Rambler 770 package. Beyond that, it was highly optioned for an economy machine: Light group, AM radio, seat belts, Solex windows, undercoating, and the more performance-minded of the Rambler Sixes at 138hp, thanks to the two-barrel "Power-Pak" Carter 3706S carburetor, were all included. Couple that with the standard 19-gallon gas tank, and you could drive all day and not fill up! Maybe Clarence considered the cost factor, which offered near-Chevelle proportions with Chevy II pricing, or maybe he got a screaming deal off the $2,755.10 sticker price because it was August and the new '65s would be coming in. Hey, this was an economy car. Why pay a premium?
And Clarence drove plenty, attaching a U-Haul trailer at some point. A minor fender-bender was repaired in the late Sixties, which involved the passenger's side front fender and roof, plus some bodywork around the passenger's side rear door. "I date this as prior to 1968, due to finding a largely uncirculated Roosevelt dime under the rear seat; the rear seat must be removed in order to take out the rear scuff plates," Gwen reports. Sometime in the Seventies, Clarence moved with his second wife to Carson City, Nevada. When Clarence passed, his wife did not use the car, and she gave the car to her daughter Victoria in late 1980.
Victoria had her Rambler serviced at the COD garage in Minden, Nevada, which was not only the local AMC dealership, but was also one of the oldest operating commercial garages in America, having opened its doors in 1911. She didn't drive it much: The odometer read just over 70,000 miles when she transferred the title to the COD garage. In April of 1986, a service receipt indicated that just an additional 5,000 miles had accumulated. Repairs included new points and condenser, brake repairs, and one recapped tire. After that, the little Rambler mostly sat. In December of 1991, an intermediary drove the Rambler 500 miles from Nevada to West Covina, California, and a month later sold it to current owner Gwen, with 76,660 miles on the clock, for the princely sum of $500.
The style grabbed Gwen. "It's decorative without being over the top, plain without being boring, and it never fails to turn a head." She also had one just like it when she first got her license in the mid-1980s-same color scheme and everything. Still, this one came with "dents on the driver's rear fender and passenger door, a broken torsion rod in the trunk, broken horn ring assembly and inoperative horn, one broken and one missing sun visor, and other assorted broken and/or missing pieces here and there. The paint was dull, the grille and bumpers were badly dented, and the interior was badly faded and weak.
"I bought it as cheap transportation, with the idea of restoring it 'someday,' but if anything, I wish I'd started restoring it much earlier. The more time passes, the more work needs to be done, and the fewer parts are available. Nothing has been easy to locate, though the spotlamp and OE fabric upholstery were the most expensive."
Luckily, even the less-populated marques often have a rabid fan base, and Rambler/AMC models are no exception. "I am a member of the AMC/Rambler Club, and have had some dealings with the local chapter of the AMCRC. This said, I get most of my information, advice, and even parts, thanks mostly to the AMC List, and the AMC Forum . I've also been fortunate enough to deal with some excellent Rambler vendors like Doug Galvin's Rambler Parts of Lodi, California," she said.
Driving any car daily, much less one 30 years old or more, means that things are bound to go wrong, but while the Rambler has been a mechanical trouper, Gwen's fellow freeway fliers have been less forgiving. "Someone backed into her front end, breaking the headlamp assemblies and damaging the front bumper and grille," says Gwen. "The second accident was more extensive when a motor home ran into the passenger's side front fender and also made contact with the passenger's rear door handle. It was also vandalized, with the passenger's vent window broken out." Each time, the little Rambler was patched back together, and hasn't stopped running.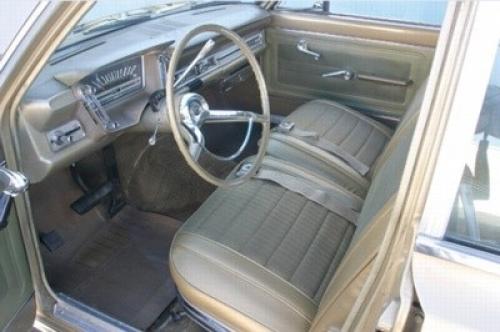 Over the last four years, Gwen has entered into what she calls a "working restoration"-she notes that, as her daily and only car, she can't keep it parked for weeks on end. The cylinder head and differential have been rebuilt, the upholstery has been replaced, an original heater hose has been found to replace the unsightly universal-fit NAPA hose that once lived there, the brakes have been gone through again, as well as "hundreds of little repairs to make up for decades of neglect and wear." The radiator hose, in particular, was tough to locate.

Additionally, several factory options were added: Child-Guard door locks, door edge guards, a passenger's side mirror, a spotlamp incorporated into the driver's side mirror, a day/night rearview mirror, locking gas cap, a tissue dispenser, and a windshield washer were all era-correct Rambler options that Gwen added over the course of the restoration.
We know that as nice as it is-and as unthinkable as a 40-year-old daily driver might be in some parts of the country-it is still a work in progress. Perfect, no. Still, nicer than most. That said, let's slide behind the wheel, take stock and go for a drive.
Despite the generous proportions inside (compact for its day, but midsized by contemporary standards), sliding in is not as simple as it sounds-a high seat cushion and a massive steering wheel don't allow much room for one's thighs to slide beneath. Width seems a class above the price range, which is nice-certainly more Chevelle than Nova, even though it seems to split the difference size-wise. Seating position is typical of the era-an upright, headrest-free bench that comes up to just beneath the shoulder blades. Doubtless at least part of this is the quaint Rambler trait of the seatbacks folding completely flat into a six-foot bed. Headroom is ample for the hat-wearing crowd, and the glass is close to your face, allowing an unobstructed view of the world outside.
Twist the key. At idle, the little engine made its presence known without much effort or cranking, and sounded a touch more agricultural than most straight-six engines of the era, despite a fairly contemporary design; what goes on under the hood accounts for a greater racket than the nicely muffled exhaust.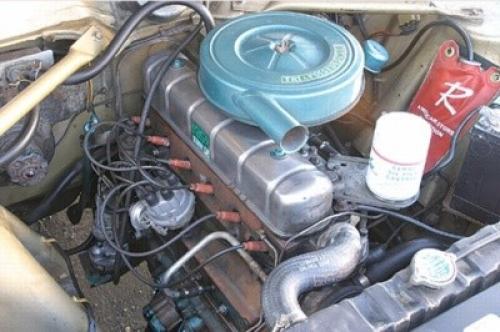 So into D we go; the era of the pushbutton transmission has departed, and the ribbed shift lever is plastic but feels nice on the fingertips. No one is expecting tire smoke when you stepped on the slightly jiggly, loosely sprung gas pedal, but the Rambler sticks to its own schedule. In a six-cylinder Rambler, even with the "Power Pak" two-barrel Carter, one does not accelerate so much as accumulate speed, much like one accumulates a fistful of cards in a poorly played hand of Crazy 8s. The speed will come; it's just not a priority in a six-cylinder economy model. What's more, the power curve feels incredibly linear; revving the engine does not reward the insistent driver. Even at a decent clip, the transmission seemed reticent to kick down into a lower gear to get moving-though the racket under the hood did get a degree or two louder. The message is clear: Slow down and enjoy the ride.
Message received. The speed will come in time, but the ride there is not a bare-bones backbreaker. The chassis feels contemporary within its peer group, though over the mean streets of Antioch, we were able to isolate the difference between the softer, fully independent front suspension and the slightly jouncy rear axle, primarily because the two ends felt and sounded markedly differently from each other. Once you take into account the typical 15 degrees of play in the wheel, the manual steering feels a tad faster than others of the class, though feel, as transmitted through the skinny wheel, is in short supply.
Go ahead and throw it into a turn. We did. Though no one will mistake a four-door 770 for a sports car, its solid unibody structure and modern Goodyear radials allow a flatter-than-expected attitude through the curves; where other cars list and plow, even at high speed, the Rambler feels satisfactorily flat-only minor listing on the inside front corner. The tires are audibly chatty, but the tall sidewall translates little of the feel into the cabin.
Gwen cops to most of this. "It's not a car to take to the local raceway and drag for pink slips, but I have come to rely on a certain level of dependability-a solidness I've found lacking in others. Sure, it has its quirks and squeaks-who doesn't after 40 years-yet I always feel a little safer behind the wheel."
Still, Gwen is far from the deadly serious type you might find nursing their cars through life. "I find my Rambler a joy, but I'm not above having fun with some of the eccentricities that come with it. I suspect that American Motors' marketing department knew that catchy names could only help the bottom line, and I get a good laugh out of the marketing terms that accompany this car: The Power Pak, the Weather Eye, the Flash-O-Matic, and the Tri-Poised Power. Sounds impressive, but it's just a two-barrel carb, heating and ventilation system, automatic transmission, and three-point engine mounting, respectively. Such was the nature of marketing in the early Sixties, when every product seemed to be a 'blank-o-blank' type name, or some similar specialized phrase."
Advice from the Rambler-smitten, Gwen? "If you want one, give the body a thorough inspection: Those unibodies can hide rust troubles. And do it because you love the car or you enjoy doing a project-you'll never recoup your costs. Still, in spite of the challenges of working on a unusual marque, I really enjoy the smiles and stories that other people share when they see it."
This article originally appeared in the JUNE 1, 2005 issue of Hemmings Classic Car.
Order Backissues of Hemmings Classic Car Here.