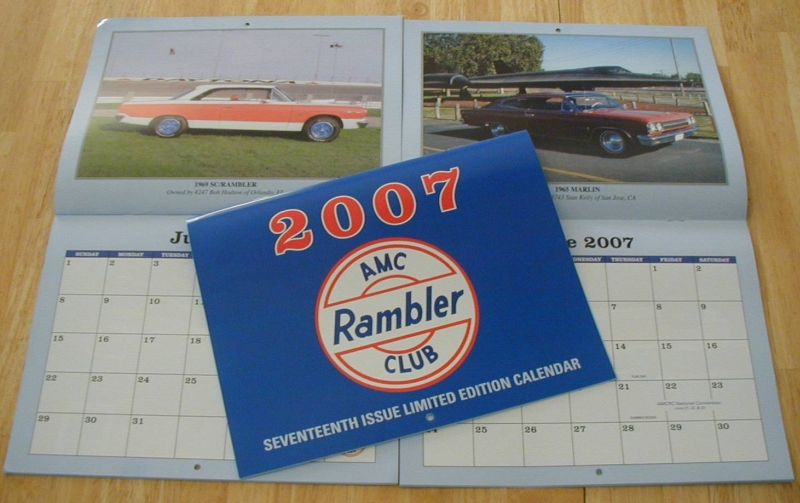 These great calendars are now on sale for only $11.00 for AMCRC Members including shipping. Non AMCRC members may purchase a calendar for $12.00 including shipping. If you appreciate Ramblers and AMCs, this is a must have item. Where else can you get a full color all AMC calendar? The 2007 all AMC Wall Calendar contains twelve (one picture each month) 8 x 10 color pictures of AMCRC members Ramblers and AMCs, printed on high quality glossy paper. To order, click here.
Rambler Guides from AMCRC

Rambler Guides are a one-stop, 34-page, full-color handbook to help tell you all of the little facts that you wanted to know about your Rambler!
Available for individual years from1958 and 1960 thru 1969, these guides cover all models for each year, and are packed with information, and contain color illustrations for paint and other items. Only $11.50 for members, $13.50 for non-members of AMCRC. To order, click here.

Rambler Neon Wall Clocks from Xtrem Images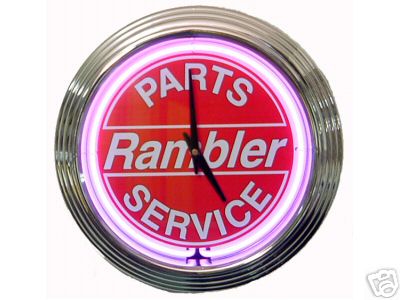 Neon Lighted Super Size 17 Inch Clock with Red Neon Color for $67.00 including shipping. New "Super Size" 17 Inch Neon Clock with Chrome Acrylic Frame and Surrounding Under Glass Red Tube Neon. Constructed from Strong Durable Chrome Finished Acrylic with Glass Front Cover. Internal Sign Faces are Screened Printed on Metal Plates for Lifetime Durability. Perfect to Light Up Your Den, Game Room, Garage or Just Display in a Special Place in your Home. Clock runs off a AA Battery. and Neon runs off 110v current. Click here to order.

Dealer Signs from Eddie Stakes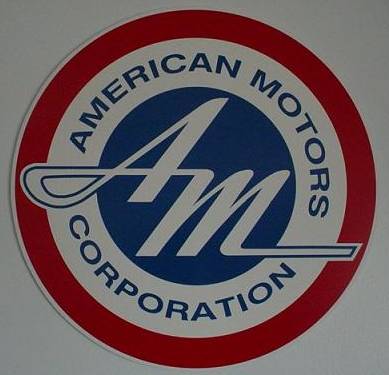 These signs are light weight material, long lasting, and easily hung using double stick tape. I use them displayed next to my personal show cars at meets, and you should see the people gather, they are really GREAT crowd attractors. You can easily hang them in your garage, office, dorm, game room, anyplace you want instant attention. Signs average about $40.00 and $15.00 for shipping and handling.
Click here
to order.
Dealer Flags from Eddie Stakes

Eddie is ALMOST SOLD OUT, SO IF YOU WERE CONSIDERING ONE, EMAIL him to hold one for you: eddiestakes@planethoustonamx.com

BRAND NEW All Weather nylon BIG 3 foot X 5 foot AMC Dealership flag. This large flag was made by the same company that produced the original ones that flew proudly over AMC dealerships and race events in the early 1970s! When these are gone they are gone, as I only had a limited run of them produced. They are awesome to hang in your classic car garage, or at AMC car shows and meets, at the drag strip, vendor's booth, I guarantee you it is a AMC AND JEEP FAN MAGNET! $75.00, Add $6.00 shipping in the US or Canada; slightly higher overseas. To order, click here.
Rambler and AMC Fender Protectors from Ohio AMC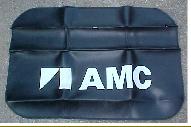 Here's something I own myself and use all the time. It's an AMC Dealer Replica fender protector. Great to use when your working on that special AMC to protect the fender from chips and scrapes, or display it with your car at a show. From Ohio AMC, a Chapter of the AMC Rambler Club! To order, click here.
AMC and Rambler Books from Olde Milford Press

Last year Patrick Foster was kind enough to compile a list of all know (by him) Nash, Hudson, Rambler and AMC related books. For years Pat has collected AMC-related books and has accumulated a substantial library. As an aid to others in the hobby who may share an interest in books, he compiled a list of AMC-related books, both in print and out. AMC hobbyists interested in reading more about their cars and the companies that built them will find useful information in these books. Here's the list. When you find something you like, hop over to the Olde Milford Press where you will find the in print as well as out of print titles. Olde Milford Press.
American Motors Christmas Song Books from Eddie Stakes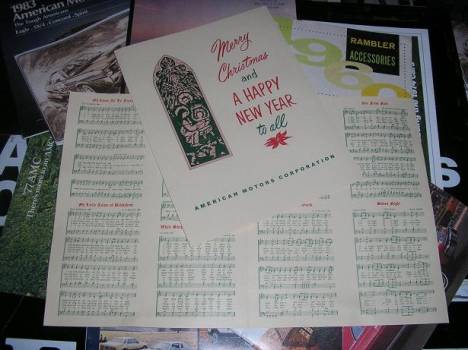 NOS late 1960's American Motors Christmas Carol Merry Christmas & Happy New Year from American Motors Corporation songbooks. 8 1/2X11, four page, they are red/green, heavy stock, great shape for being so old, you open them up and inside are many staple Christmas songs, like: O Come All Ye Faithful; Oh Little Town of Bethlehem; Hark The Herald Angels Sing; While Shepherds Watched Their Flocks; It Came Upon A Midnight Clear; Joy To The World; The First Noel; Silent Night, complete with lyrics. Pretty rare little item if you have never seen one. Great thing to pick up for your collection or to frame, chances are you have never seen one. From the John Slabe Rambler Motors Dealership in Little Falls, NY;
$9.00 each + $2.50 shipping in the US or Canada, slightly higher for overseas.
American Motors Umbrella from Ohio AMC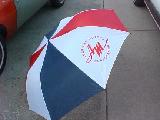 Most car guys like to go to shows. And the more shows you go to the better the odds you will get caught in the rain. Heck, it happens to everyone eventually. And when you finally get caught in the rain at a show, an umbrella is pretty handy. And if that umbrella just happens to be Red, White and Blue and carry the American Motors Logo, well better yet. From Ohio AMC for $24.50. To order, click here.