If it's too good too be true………
By Brad Busque
I'm sure everyone has heard the saying, "If it sounds too good to be true, it probably is." This saying is especially true where eBay is concerned. I have been watching for a nice 68-70 1st generation Javelin with a 4-speed. I watch the AMCRC Ad Release, AMO Classifieds, and eBay for a car fitting the above description. Well, recently a fully restored 280 HP, 343, leather interior, new paint, 68 Javelin for a "buy it now" price of $7,200 popped up on ebay. That was one of six other AMC cars on ebay at the time with the same "buy it now" price of $7,200 from the same seller. One of the cars listed for the amazing price of $7,200 was a fully restored 390 Go Pack AMX 4 Speed, worth at least three times the asking price. I had seen this particular AMX sell on ebay a few months earlier for $21,000. The scammer just reposted the same pictures used two months earlier. I guess they don't think we're watching very closely.
A look inside all the $7,200 auctions found the same disclaimer on all cars, "don't bid, contact me by email first or else I will leave negative feedback." Folks, this is a MAJOR red flag. Number one, you can't leave negative feedback for an item not purchased, 2nd, as soon as you leave ebay and start dealing with someone outside, you are in danger of being taken to the cleaners. I suspect that the scammer was using a stolen ebay account. By asking for email contact, the scammer was collecting emails of people they could contact once the auction was closed down by ebay. I reported all the $7,200 auctions to ebay, who promptly shut them down. I decided to do a little research, and mailed the scammer who listed the Javelin, just to get an idea of how one of these scams work. My first email:
Looking for more information on your Javelin. Mileage, rust repair, running condition, etc.
Thanks
The scammers reply:
Hello,
Details: Rally Green with tan interior, reupholstered. Original owner. Only 52,000 original miles. 4-speed, 280 hp. Garaged its whole life. New paint, interior and chrome. Show condition.
First of all I must inform you that I'm located in Budapest, Hungary. I recently moved here with my job and I had the intention to take the car with me in order to register it and keep it, but I discovered that it is very hard to register a US car here and the taxes are very high. Not to mention that here the gasoline is much expensive here. So, unfortunately, I had to leave the car in the US.
The PRICE is $7,200. The car is in excellent condition. It has no scratches on and hasn't been involved in an accident. The motor runs very well. The car was always garaged. The car is still US registered and the title is clear. The car is in US.
The delivery will take between 12 and 15 working days (with insurance and 30 days return policy). I WILL PAY FOR THE SHIPPING!

If the car does not matches 100% the description, you will return it in maximum 30 days and I will pay for the return shipping fees.PAYMENT will be made through eBay so we can be both protected!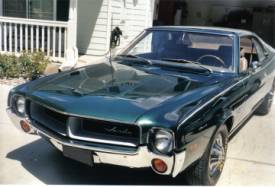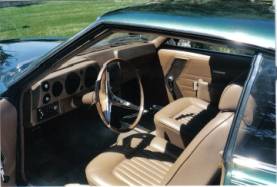 Sounds pretty good, and you should have seen all the pictures (8 were sent), the car was perfect. I decided to go a bit farther with the research and sent off another email:
Hi Ray-

The car looks great, and just what I am looking for. What size is the engine?
Where is the car presently located?
Scammers reply:
Hello,
It has 280 HP. The car is in Virginia.
The deal will be concluded through ebay, they will set up the shipping and payment details.
Here is how the process works:
- you give me your full name and shipping address;
- I start a transaction on eBay Vehicle Protection Program;
- they send you the payment and shipping instructions;
- you send the money to ebay;
- they confirm me that they secured the funds;
- I send it to you;
- you receive and accept it;
- they pay me.
I will offer you 5 days inspection period. If the item is not like described you will have to ship it back in 30 business days on my expense. If you agree please send me your full name, shipping address and ebay user name!
Where are you from?
Such a deal, time to take a look at the car.
My Email:
I'm in Simsbury CT, but will be in Norfolk VA on Business next week. Could I set up a time to see the car?
UH OH. When the scammer starts to panic he doesn't sound very American any more.
Scammer email:
Hello, I want to start a new business with ebay in the future. I want to sell more cars on ebay and I want to do this through they (through ebay). For this I must to check, to see if this is a good business for me before I invest my money. This is the reason that we must conclude the deal through ebay. I want to be sure that I can sell cars all over the United States in short time so I can gain money on short term. I must to check if I find uyers interested to buy my cars through ebay. If you really want to buy my car we can do in this way. I will start the transaction, you read the terms of the transaction and if you agree we have a deal. I wait your email asap. Thank you, Ray


Hmm. Originally he was selling cars he had in the US, but couldn't take to Hungary with him. Now Ray is referring to starting an ebay business. His story is changing. Could it be Ray is dishonest?
I explained to Ray that I would buy the car under his terms, but would like to view it first. Well, I was told to buy the car sight unseen, and good old Ray would take it back at his expense if it wasn't to my liking. From this point the scammer asked for my shipping address and ebay user name. I gave him my real address, but supplied a user name I had set up as a bogus with zero feedback tied to an old AOL email account I still have, but don't use. The scammer then sent what appeared to be a ebay email (it wasn't, it traced back to a Hungary server) with ebay logos looking for a PayPal payment of $7,200. If I had paid at this point, the money would have been gone.
Lately there have been a lot of these AMC scam auctions. Best thing to do until ebay gets a handle on this is to be extra careful, and if you see something too good to be true AMC-wise, quickly click on "live chat" on the front page of Ebay and give them
the auction number so ebay can check and remove the scam quickly.
As for safe purchasing, first try to find a car listed within your local chapters classified. You save shipping, and can inspect the car pretty easily. Other good options are the AMCRC Ad Release (also features pictures on-line) and AMO Classifieds. For these choices you may be able to find other members who are in the area of car, who may have first hand knowledge of the automobile in question.