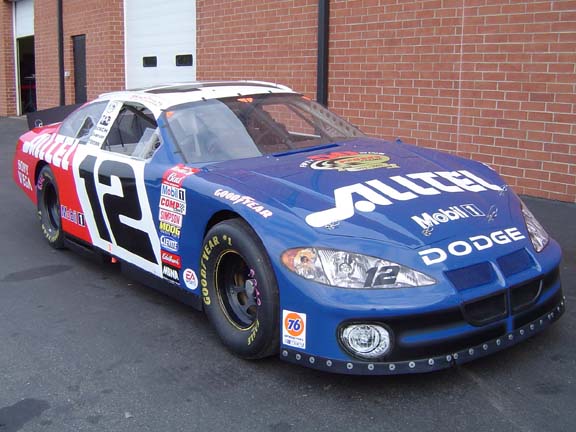 Sunday November 9th's activities had an early start for the Penske drivers as both were
featured guests in the morning's press conference kicking off the team's celebration of
their 50th win (which came at Michigan in August when Ryan visited Victory Lane).
Part of the celebration sees Ryan's ALLTEL Dodge decked out in the same color
scheme as Penske's first venture into NASCAR in the early 70's, when Mark Donohue
piloted the Penske AMC Matador to the team's first win at the old Riverside race course
in California. Rusty's Miller Lite Dodge this weekend carries the famous and polpular
black and gold colors that adorned his Penske racecars from 1991 through 1996 -- a
period that produced 30 of the wins for Penske Racing South.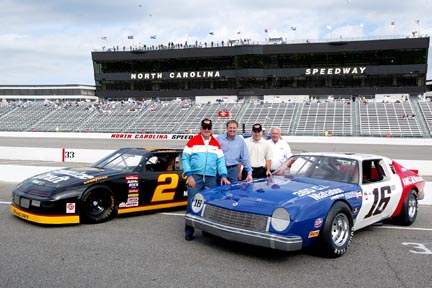 Don Miller, President of Penske Racing South, led the conference and provided several
historical facts and figures to the media gathered in the infield media center. Bobby Allison
wore his actual AMC Matador racing jacket during his speaking portion of the
conference. Show cars of the Matador and Rusty's Pontiac were positioned out in front of
the media center for photo opportunities.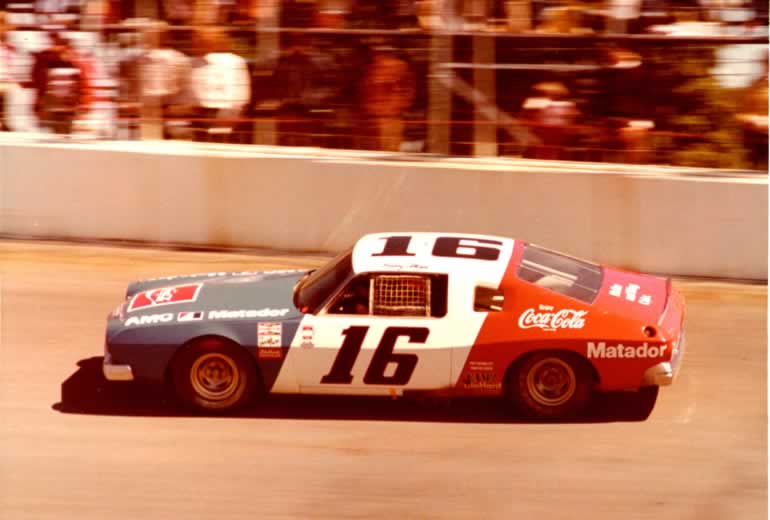 "I grew up watching Rusty running that black and gold car out there winning those races
and I've seen the old photos of the Matador that Mark Donohue and Bobby (Allison, who
also was a featured guest in this morning's press conference) raced so successfully.
I'm just so thankful to have the opportunity to be a part of Penske Racing and I'm proud
of the winning history the team has."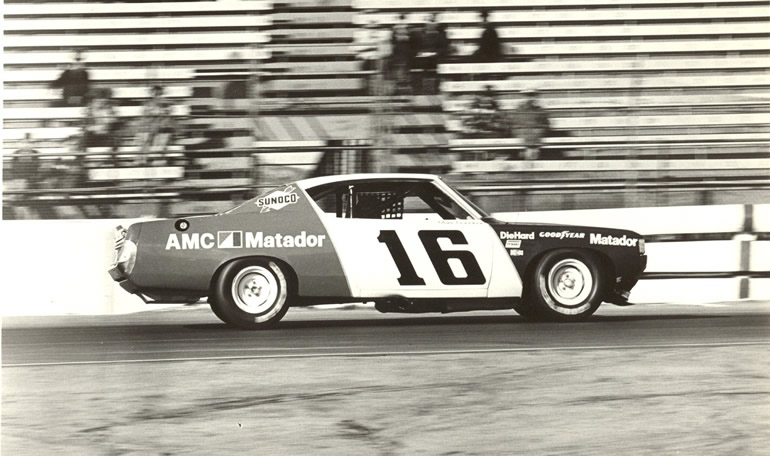 Chris Jenkins of USA Today wrote in his column that this weekend is a return
to "old-time" racing where tire management is the key concern for drivers and teams
and it will be highly unlikely that fuel mileage will come into play.
The track surface here is just so abrasive that speed falls from the Goodyear Tires here
from the very first lap of a run. That is definitely the case here, even in practice and
qualifying.
This morning's practice was delayed some 15 minutes by an unusually slick condition
down between Turns 1 and 2. Track officials addressed the issue and the cars finally hit
the track just after 11:35 a.m.
Jeremy Mayfield paced the early part of practice and rookie Brian Vickers was
impressive as usual. But, just has been the case throughout the year, Ryan and his Matt
Borland-led team came alive and showed their practice prowess. When the abbreviated
session ended at 1:20 p.m., Ryan was atop the speed chart with a lap of 23.533
seconds. Mayfield's 23.675 was second, Todd Bodine's 23.711 third, Johnny Benson's
23.713 fourth and Bobby Labonte's 23.849 fifth. Rusty struggled through practice and
was 29th overall with a 24.093.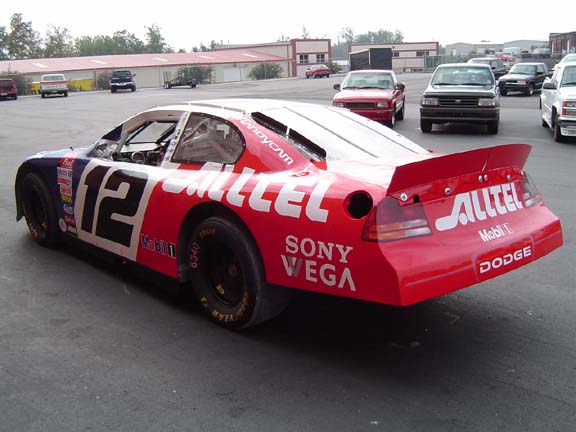 "We're gonna' have to pull one out of our (rear end), like we've done many times before,"
he said as he hovered over the shock dyno with crew chief Bill Wilburn, engineer Roy
McCauley and shock specialist Tom Hoke.
There are 46 drivers scheduled to make qualifying runs in the time trial session, which
begins at 3:05 p.m. The Penske cars are late qualifiers, with Rusty scheduled out 42nd
in the order and Ryan set to bring pleanty of drama into the equation as he is the final
driver to take to the track.
The qualifying session began on time and Vickers was the first to take to the track and
Vickers was first to take to the track. He put up some fast numbers -- a lap of 23.544
seconds/155.505 mph -- for all the other competitors to shoot at.
Jimmy Spencer was noticed with his 23.681 and Tony Raines pulled a shocker with his
23.574. Mayfield was out 28th and duplicated to the thousandth Raines' lap. He'd be put
in front because of his point standings. Bill Elliott was a threat with his 23.632.
Rusty made good with his promise to somehow pull out a fast lap as he clocked in with
a 23.680 (154.611 mph).
But all eyes were focused on Ryan when he took to the track as the last man out. He
was on the wheel when he turned in a 23.533 (155.577 mph) to knock Vickers from the
point and pick up his 11th pole of the season.
Ryan and Vickers will make up the front row here on Sunday, with Mayfield, Raines and
Elliott rounding out the top five. Joe Nemechek, Rusty (seventh), Spencer, Jeff Burton
and Greg Biffle round out the top 10 starters.
Sunday's Pop Secret Microwave Popcorn 400 has a 1:00 p.m. EST starting time and
features live coverage by TNT-TV and MRN Radio.
* * *
RYAN NEWMAN (No. 12 ALLTEL Dodge Intrepid) - Wins 11th pole of the season, 18th
career pole in 79 starts.
"This is a good racecar. It's done a lot of great things for us this year, and the guys have
done a great job. I'm just the guy who gets to sit behind the wheel and steer it. To me
winning 11 poles in a season means a lot from a driver's standpoint. It ties second for
all-time most poles in a season. To me, that's a great feat. There's definitely a lot of
great drivers in that category.
"He (Brian Vickers) is doing a great job. I told everybody that last week in the media
center. He's obviously a talented young individual who's doing great things. Their team
is working good together. They've had a great opportunity to do a lot of testing. I think
that's definitely paid off.
"To me it is what it is. We can't manipulate the point system in any way. We've had our
failures this year, and that's taken a lot of points away from us or however you want to
word it. To me to be a Winston Cup champion you've got to have everything.
"Qualifying to me is no different than the race itself. I can wheel the car, and I do a good
job doing it. The guys do a good job setting up the car. We've got to have a good engine.
You put it all together and you get great results. I think that's what it's all about. It's not
just me and Matt (crew chief Borland). It's everybody on the team.
"I didn't watch (qualifying). Brian had a great lap, but ours was good enough.
"It's not just Bill Elliott. It's Darrell Waltrip and maybe Pearson or Bobby Allison. It's a
great honor to be in the history of Winston Cup and be second for all-time (poles in a
season). It's a great effort. I'm not going to wear the jacket myself. It's the team that's
given me this opportunity. That's the way I look at it. It's an honor.
"I don't think the short tracks, but I can think of three or four DNF's off the top of my head,
Daytona, California, Talladega, that resulted in crashes, and they're far from short tracks.
Michigan engine failure in the first race, and those four races ended up in DNF's and
that turned our season around. I remember saying engine failures last year resulted in
DNF's and I sat up here last year saying shoulda, woulda, coulda, too.
"We're here to win races and beat the competition. Beating the competition could mean
two different things. It could mean winning on Sunday or getting the most points for the
Winston Cup championship. It's all how you look at it."
* * *