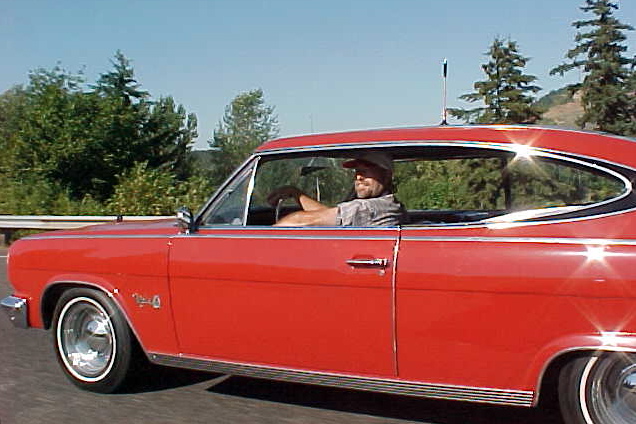 This picture is what my Marlin and I do best. Head down the highway.
Hi, I'm Stan Kelly, president and founder of the Pacific Gold Rush Ramblers, and have
been involved with AMCRC for about 12 years.
I'm a huge AMC and Rambler fan, my wife says it's an
addiction. I currently have 13 Marlin's (4 1967's , 2 1966's, and 7
1965's), a 1968 AMX, 2 1965 Ambassador Wagons an 880 and a 990, a
1960 Rambler American Super, a 1961 Rambler American 400 Convertible,
and 1978 AMC Pacer, 1979 AMC Spirit, 1982 AMC Concord. I'm also
working on the 1962 Rambler Classic 400 2 Door Sedan PGRR is going to
be restoring and selling this year. Pictures of most of these cars can be found on the bottom of this page.
This above picture is of my favorite Rambler, however, I love them all.
This is my 1965 Rambler Marlin (Antiqua Red and Classic Black) I
purchased it on June 17, 1973 at the ripe old age of 16. I still
have the car and drive it regularly. It has attended a number of
AMCRC meets including the 2005 AMCRC National Meet in Sacramento, the
2001 AMCRC, the 1999 AMCRC meet in Ocean Shores, and number of annual
Ocean Shore and AMC Rendevous. I've logged approx 300K miles in the
the 33 years I've owned it. It's a very nice driver and shows quite
well but it usually doesn't win best of show, however, it does win a
lot of long distance awards. This car has never been what I would
call restored. She's been maintained all her life and when something
breaks it's repaired. She's been painted three times, once after a
friend hit her in the drivers side during college, I've worn out 4
interiors (3 original and 1 temporary), The engine and transmission
have been rebuilt once. After many years her differential gave out
and had to be replaced and I updated the disc brakes to the later
style about 15 years ago a little problem with stopping in the
driveway by using a garage door, luckily no damage to the sheetmetel.
I'm the third and will most likely be her last owner. I've already
notified my family that the car stay's in the family and my 12 year
old son has volunteered to keep it for me. It was demonstrator for
Cemo Motors in Porterville, CA for two years and sold new in 1967.
The original owners traded it in on a Toyota in 1973, I still can't
believe they did this. I purchased it from the dealer, Parson's
Motors, that took it in trade. I spotted it at the back of the lot
sitting between a 1967 Cadillac and the office. Once I saw it I knew
it was love at first site and I had to have it. I paid a whopping
$599 for it and it took me two years to pay it off at $35 a month.
One of the more interesting things about this car is that it has been
the catalyst for many things in my life. I took it on my first date,
proposed to my wife in it, used it as a family car, and it's the
reason everyone one of my 4 brothers and sisters currently own a
Marlin (My oldest sister owns a 1966, My oldest brother a 1966
factory 4-speed, my middle brother a 1965 Twin-stick, and my youngest
sister a 1965) Owning this car has afforded me the opportunity to be
associated with and to have met some of the nicest people in the
world. I can't imagine what I would be doing had I purchased the 1967
Mustang Fastback I was looking at the same week in 1973.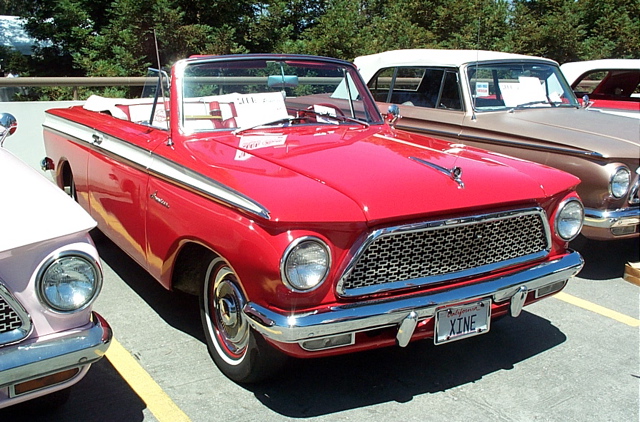 1961 American Convertible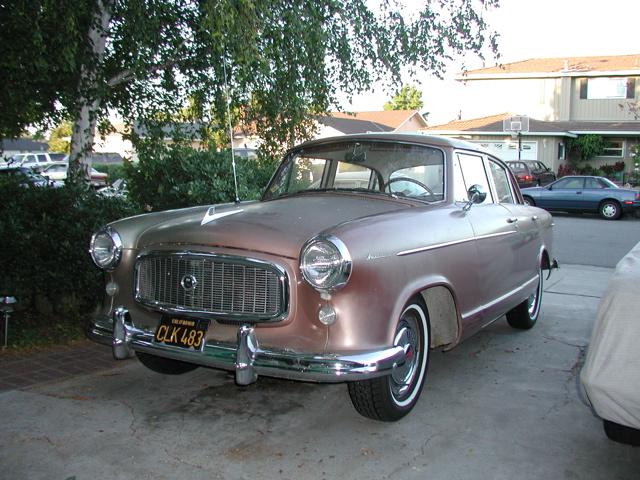 1960 American 4 door 58K original miles purchased in Palo Alto.
I'm the third owner. Came with all the original paperwork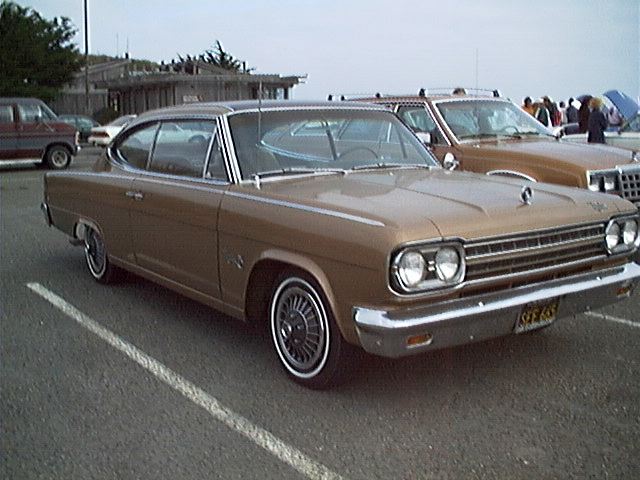 1966 Marlin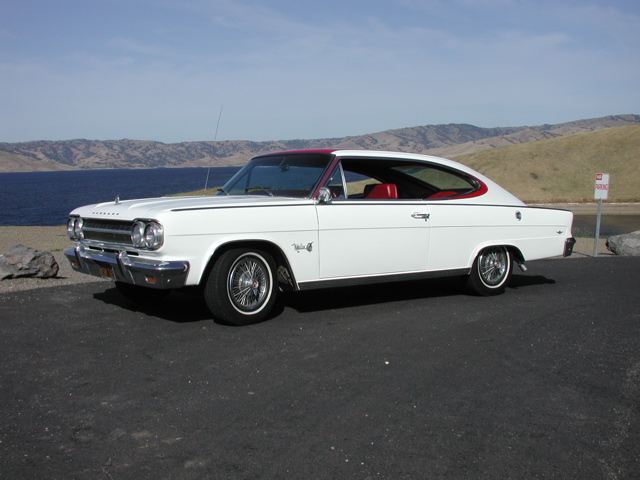 1965 Marlin twin stick
(Traded a wrecked 1974 Matador for this car and completely rebuilt it.)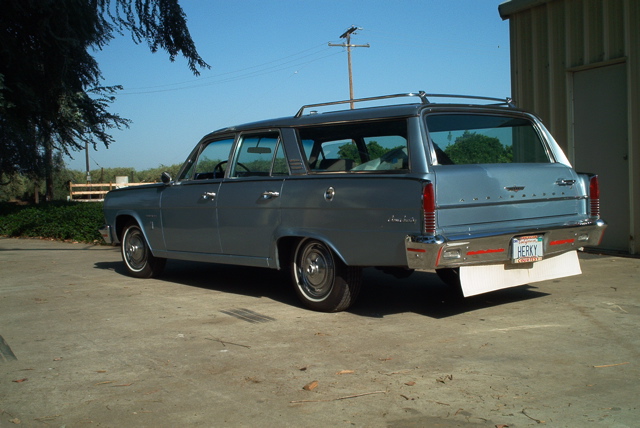 1965 Ambassador 880. This is an unusual car. It came equipped
with power front windows, 287 V8, and a swing tail gate. But it's a 6
passenger wagon. Best we can tell it's one of about 1200 produced
with this feature.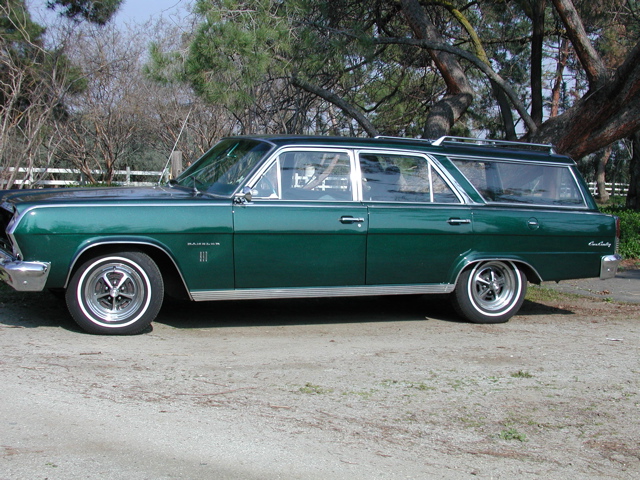 1965 Ambassador 990 wagon. Purchased for $200 but very usable as
purchased. I've done some freshing but no mechanical work.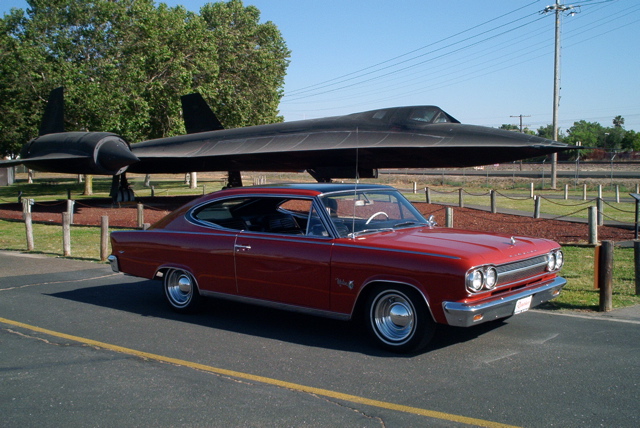 1965 Marlin (the original one) I like this picture because
of the similarities between the SR-71 and the Marlin.


1967 Marlin purchased a few years ago as my
first '67 but have added three others since then.