Curiosities on wheels
Reprinted Coutesy of Newsday

When the Hagerty Insurance Co. asked clients recently to nominate cars of "dubious design" that "only a mother could love," the winner was the American Motors Pacer -- which critics long ago dubbed the flying fishbowl for its upside-down, glass bowl-like styling.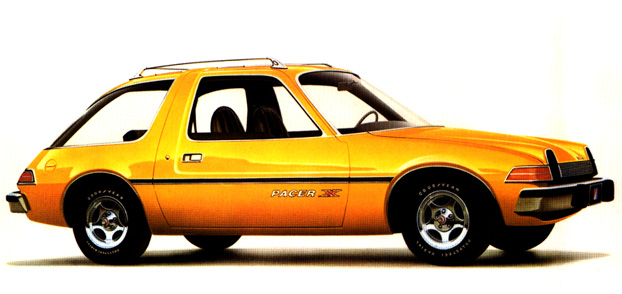 Other major "offenders" on the Hagerty list included the Yugo and Edsel, the Ford Pinto, Pontiac Aztek, Chevrolet Vega, AMC Gremlin, Chevrolet Corvair, AMC Matador and, last and perhaps least, the Chevrolet Chevette. Three AMC models on such a short list: Company executives must be so proud . . . wherever they are.

Still, there is an American Motors Ramblers Club. Its president, 53-year-old Brian Yacino of North Grosvenordale, Conn., said he has owned about 40 Ramblers since he got his first one in 1970.

"What attracted me was their durability," he said. He has one now, a 1963 Classic 660 wagon.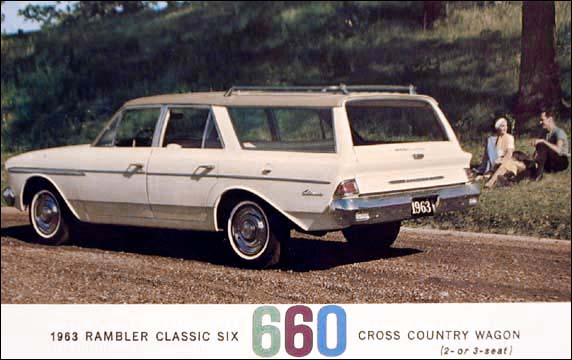 Yacino said one attraction of cars like Ramblers that were unappreciated in their day and produced by companies no longer in business is that they're a lot less expensive than the more popular collectibles.

"The prices [of popular models] have gone sky high," he said. "So people are looking at station wagons, four-door cars, orphan cars, and Rambler has all of those."

He notes, however, that not all Ramblers and AMC models fall into the less-than-desirable category; sporty cars such as the AMX, Javelin and Rambler American Scrambler, he said, are finding new friends among collectors.

Romanced by Rambler

Electronics engineer Peter Stathes of Hicksville, who is 54 and heads the AMC Rambler Club's New York metro area chapter, said he got interested in Ramblers when he began driving the 1964 wagon his father had purchased new. "That was my first car," he said. "Being a young kid with not a lot of money and going to college, it was economical to keep up, it had a nice little engine and it was good on gas. The parts were inexpensive, and it was easy to maintain."

AMC was controlled for a time during the 1970s and 1980s (until Chrysler bought it) by another automaker whose products were under-appreciated and never sold well in America but has fans nevertheless -- France's Renault.

Jacques Lynn of El Cajon, Calif., who sells parts for the cars and is secretary of the Renault Owners Club of North America, said the carmaker sold two small sedans here in the '50's, the 4 CV and, later, starting in 1956, the larger Dauphine, the former being France's answer to the VW Beetle. "Their cars are much prettier than Volkswagens," Lynn said of his beloved early Renaults.

Collector Jesse Patton of West Babylon, who is the club's vice president, said he had two Dauphines, having fallen in love with French cars during two tours with the Army in Vietnam, which had been a French colony. "There were a lot of French cars over there," he said.

He drove his Dauphines daily and they rusted to pieces, said Patton, who is 64 and retired from the TV news video business. Now he owns three 1985 American Motors/Renault Alliance convertibles and one 1986 Alliance sedan. "It was a very handsome car," he said of the Alliance. And, in 1983, it was Motor Trend's Car of the Year. But Consumer Reports found it to be a dog in reliability and it was gone by 1987.