Nash Rambler History
By
Rob Wagner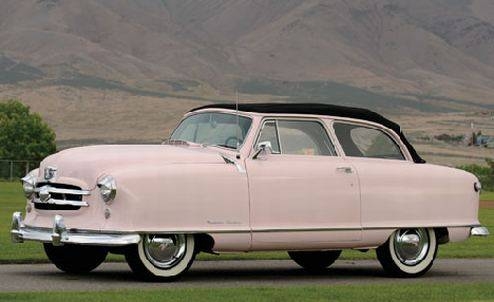 The Nash Rambler automobile was produced briefly by the Nash division of the Nash-Kelvinator Company and was a forerunner to the American Motors Corporation's entry-level cars. The Nash Rambler, produced between 1950 and 1957, was North America's first compact car, adopting a European approach to styling. It was marketed to American buyers as a distinctive alternative to its larger, more flashy Detroit competitors.

Nash advertises its Nash Rambler Landau convertible in 1951. The Nash Rambler can trace its roots to the Rambler horseless carriage built by the Thomas B. Jeffery Company in 1902 and produced through 1914. In 1916, Charles Nash bought the Jeffery Company, renamed the car Nash and created Nash Motors. Nash merged with kitchen appliance manufacturer Kelvinator Corp. in 1937 to become the Kenosha, Wis.-based Nash-Kelvinator Corp.

The 1951 Landau convertible sat on a compact 100-inch wheelbase. Nash produced a line of mid-level cars through 1950, but George Mason recognized there was a glut of large and very similar cars produced in Detroit. Nash Motors was already at a disadvantage because it was based in Wisconsin, and material and parts had to be shipped from Detroit at a greater expense than its rivals. To survive, Nash sought a different car for buyers.
First Compact Car


Bright colors were common in the Nash Rambler line. In 1950, Nash introduced the Nash Rambler, the first compact car that was significantly smaller and weighed less than its competitors. It sat on a 100-inch wheelbase that, even by contemporary standards, is short. It was powered by a modest 173-cubic-inch flathead 6-cylinder engine, generating a reasonable 82 horsepower.

This two-tone 1957 Nash Rambler exhibits sharp lines and a contemporary look. The same year that the Rambler was introduced, Nash renamed its line of cars to include the Statesman and Ambassador. The Rambler was originally slated to be the Diplomat, but Dodge claimed the name for its two-door hardtop. Nash chose Rambler to honor the original Jeffery Rambler.
The convertible's unique window-frame construction was not found on Nash's competitors' cars. When American soldiers returned from Europe following World War II, they brought with them their appreciation of the small, economical and rather basic European car. Body styling was based on the concept that form follows function and that a car, above all, was transportation to get from Point A to Point B. Nash followed this philosophy but combined the elements of economical transportation with comforts, like a roomy interior, to fit American expectations. Nash also used the famed Italian body stylist Pininfarina as a designer.
The 1957 Nash Rambler Rebel was the last in the Nash Rambler offerings. Although focused on economy, Nash also recognized the dangers of being labeled as a cheap car, which would keep buyers away. To avoid the association, Nash developed the high-end convertible Landau, which was more in line with its Detroit counterparts.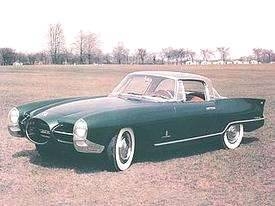 A 1957 Nash Rambler Palm Beach concept car designed by Pininfarina but never mass produced. In 1954, Nash merged with the Hudson Motor Car Company to become the American Motors Corporation. Many Nash Ramblers were rebadged as Hudson Ramblers and shipped to Hudson dealerships. There was no difference between the Nash and Hudson Ramblers. Nash Ramblers continued, including a new four-door sedan and four-door station wagon, until 1957 when the Nash Rambler moniker was finally dropped.