Saturday evening found us at the Joint AMCRC & Marlin Club's Awards Banquet. Seventy guests were on hand for the event. Noted author and historian Patrick Foster treated us to a wonderfully entertaining and informative presentation on the evolution of the Rambler into Motor Trend's "1963 Car of the Year". Chris Ziemnowicz of the Marlin Club produced a slide show featuring the winner's cars to accompany the award presentations and the dinner was capped off by a lively auction. Joe Liption, Vice President of the Marlin Club served as auctioneer for their club. The Met New York/New Jersey's own Vanna White (Rosemarie Stathes) helped raised over three hundred dollars for their chapter!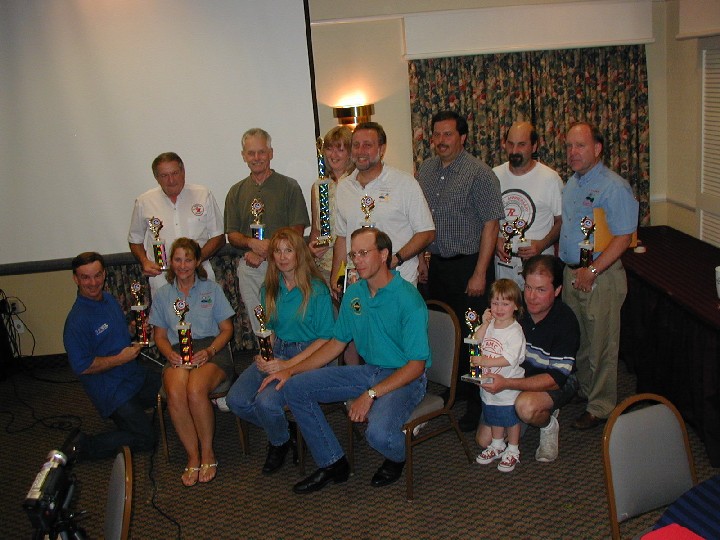 A group shot of some of the winning car owner's.
Also pictured is Peter Stathes (back row, 5th from left), president of the METROPOLITAN NEW YORK & LONG ISLAND & NEW JERSEY CHAPTER of AMCRC, this years host chapter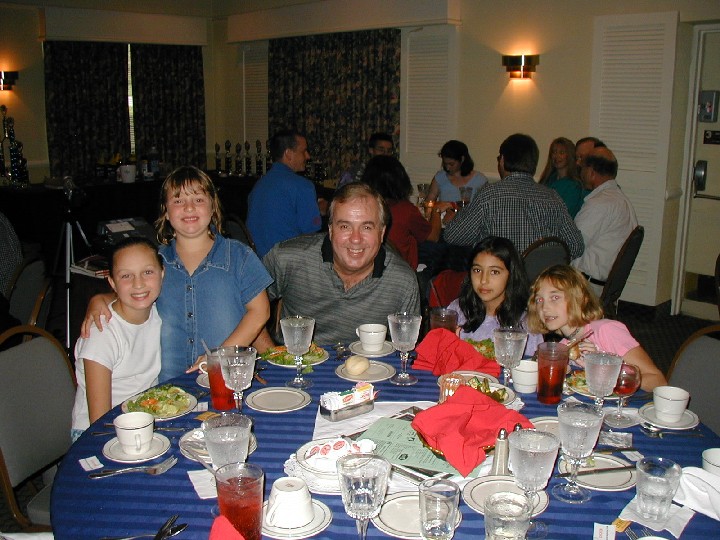 Pat Foster was guest speaker at the dinner. Here he is pictured with some of his peers.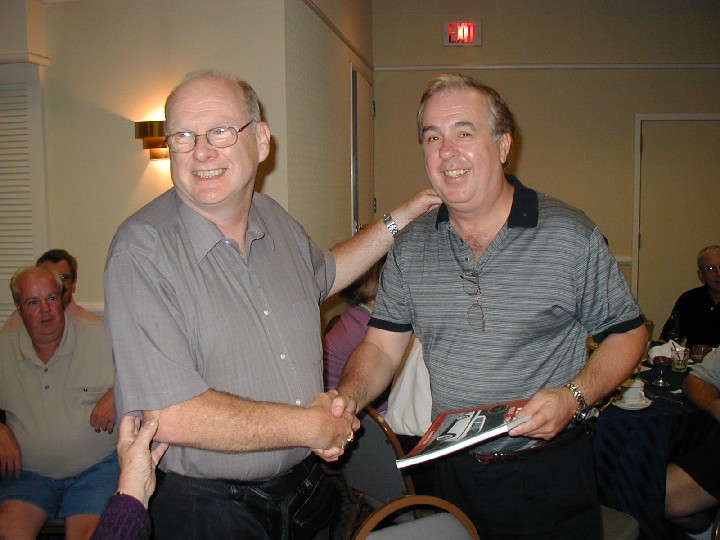 Some of the items up for auction were autographed copies of Pat's books.
AMCRC would like to thank the many people that helped to make the National Meet a resounding success:
Mac MacIntosh, Chris Ziemnowicz and Joe Lipton of the Marlin Club; John and Rosalie Davis of the Garden State Chapter for their help with Registration, Tee shirt sales and 50/50s; Mike D'Angelo of the NY/NJ chapter for transport and set up of the Hospitality room as well as help on the show field; Dave Williams of the NY/NJ chapter for help with the show field and help during the Awards Banquet.
Thanks to the Four Seasons Chapter members Bill Votta and Carl Pistocco who took charge of the parking lot, and Joe and John Boskc of the Appalachian Trail Chapter for their help on show field and rounding up those extra 50/50s sales.
Thanks to Mark Kasper of the Marlin Club for helping to tally the ballots.
Thanks to following venders who helped to underwrite the cost of the show:
American Performance Products, American Parts Depot, Planet Houston, Eddrie Marquez, For Ramblers Only, Galvin's Rambler Parts, and Castrol Oil for supplying Tee shirts and other prizes for the Goodie bags.
Thanks to Bob Majeski for donating the AMX2 print for the Auction and to Eddie Stakes of Planet Houston for the three sets of AMX Posters for the Auction. Thanks to Patrick Foster for donating two signed copies of his books for the Auction.
Onto:
Cruise Night
Ambassador Class
American Class
AMC Class
AMX Class
Best in Show
Classic Class
Javelin Class
Marlin Class
Metro Class
Nash Class
Rebel/Matador Class